"When Masks fall" : THE VISUAL & EXPERIENCE BASED WORK OF CARNIVORE aka Swen Brandy
June 16
@
6:30 pm
–
11:00 pm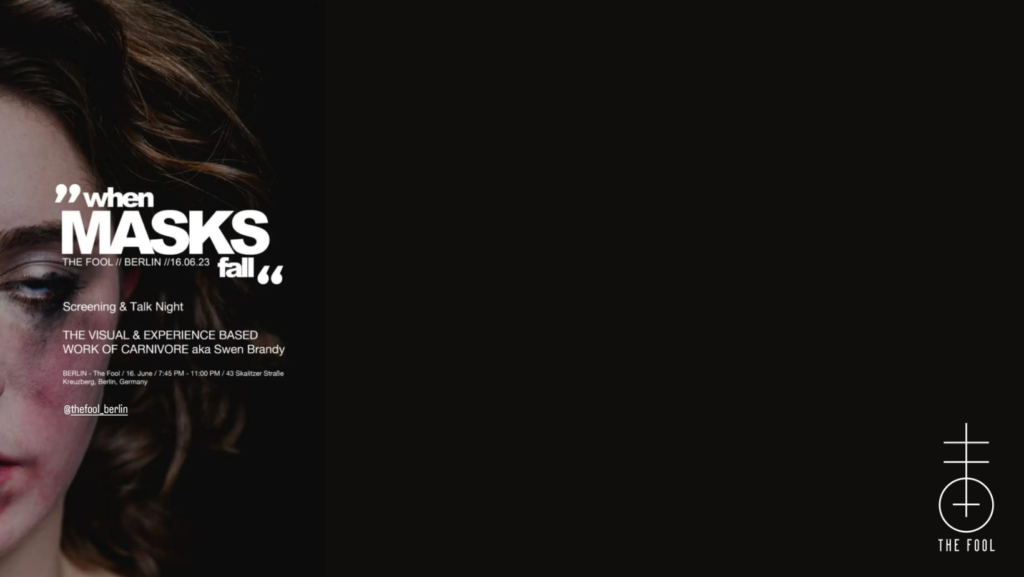 "When Masks fall" : THE VISUAL & EXPERIENCE BASED WORK OF CARNIVORE aka Swen Brandy
Photo and Video-Screening and Talk
"When Masks fall"
THE VISUAL & EXPERIENCE BASED WORK OF
CARNIVORE aka Swen Brandy
BERLIN // 16.06.23 / 19:45 h
Photo – Screening // Interview // Film Screening "Emotional" // Talk Panel
"WHEN MASKS FALL"
We all know the word masquerade, posture, we know the little rituals and preparations for events or special occasional events from upbringing. We dress up and adapt, we put on the party mask and over the years we develop dozens of different masks for every occasion around us in society and in circles of friends, but also at work and even with friends and with our loved ones to adapt, to adapt. then there are the moments when we wonder and ask ourselves who and with which mask we really connect with our ego. Swens uses videos and images to show how masks are falling, people are frozen in the sub, edge, and lust space. The images show how beautiful, but also intense, letting go can be. In a panel, we want to talk about how experiences of these conditions can be, are they dangerous, does the mask really serve to protect you in everyday life, what is beauty actually?
When masks fall.
The project "Emotional – a moment full of emotions"
is intended to show the variety of emotions, especially from the point of view of non-verbal communication. Authentic, unfiltered emotions enable us to get in touch with ourselves and with other people. In our everyday life, however, we have learned to hide or control the expression of certain feelings. This control is shed for a moment as the protagonists show their authentic, emotional selves. An important focus was also on diversity, i.e. that people of different age groups, body types, and ethnicity are portrayed. Their expressions were captured in photos and short video clips. The presentation of the photo and video material aims to ensure that viewers are confronted with authentic, unfiltered emotional expressions over a longer period of time – a situation that rarely occurs in everyday life. In this way, everyone can feel and explore for themselves what prolonged viewing of these expressions triggers in them.
Swen Brandy (CARNIVORE) Berlin
Concepter/Photographer/Artist/Kink-Educator
Swen Brandy is a 45-year-old photographer and artist from Germany. In his playshootings, he combines BDSM scenarios with photography, often resulting in personal challenges and intense experiences for the models. In 2020, he began creating short films and clips in addition to his photography work, and publishes them under the label Carnividz. Aside from his shootings, he works as a graphic designer/Art Director and passes on his knowledge on body and mind work as a kink educator.
About Playshooting
Your mind is your challenge
For me photography means primarily working with a person, instead of just taking a picture. The focus is not on the arrangement of the setting or the person, it's on the mental state as well as the experience of the model. I want to get them in a mood, where they can let go and show a side which is different from everyday life. Therefore, I lead them into a scenario that forces them to release.
I love to work with the mindset of a person. By setting certain impulses the scene becomes suddenly real. Based on the preferences of the model, those scenarios can include pain, domination, physical and mental restriction as well as different kinds of challenges. In this regard I give them the chance to explore their limits, by leading them from their comfort zone to the borderline. I start slowly and increase the intensity bit by bit until they reach the edge of self-control and thus the state of release. My favourite attempt of bringing someone into that state is by creating challenges. Depending on the person, this can include the endurance of high impact, intense pain or other stimulation, a difficult task, the confrontation with fear or discomfort, intense physical or mental restrictions or a combination of those approaches. Of course, this kind of experience is negotiated before the shooting: there is a comprehensive conversation about how intense the scenario might become, and individual boundaries stay respected.
During such a scenario most people experience an extension of their limits: while struggling with the situation in the beginning, they adapt to it bit by bit until they let go. This often ends up in them being able to handle a higher degree of intensity than they originally expected. They experience that they can go beyond their proposed limits, and that "the end" is actually not the end. That's the moment when ataraxia sets in.
In my photos I capture the states that everyone passes while going through such a scenario. It creates a specific mood and body language as well as authentic emotions.
Swen Brandy
CARNIVORE