Eggs in Magick
April 28
@
7:30 pm
–
9:30 pm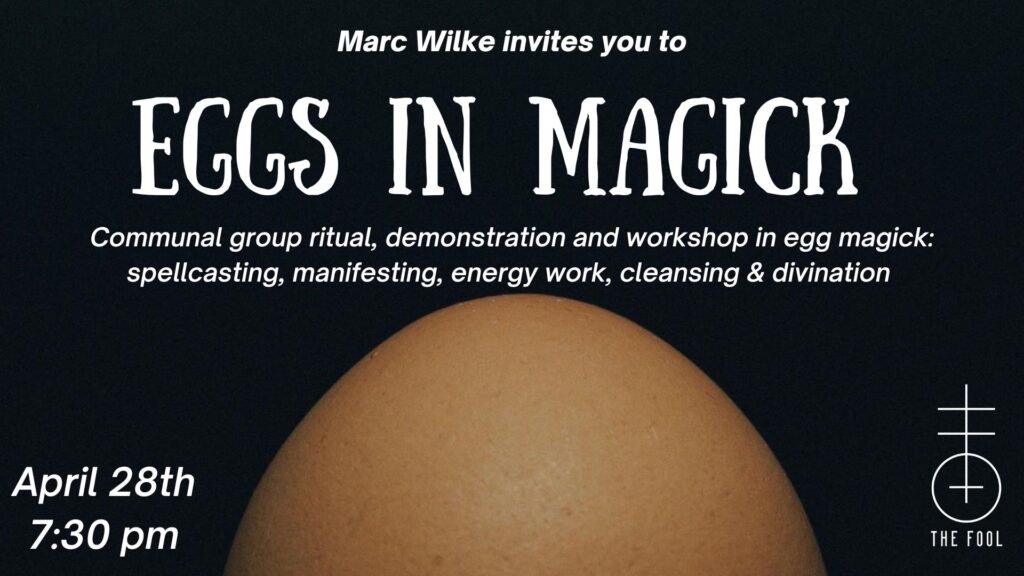 Eggs in Magick
Join Marc for a deep dive beyond the shell and into the infamous symbol of healing power. Learn how eggs are used in magick, divination, energy work and healing.
Inspired by the techniques of the Curandero, celtic magick, shamanic practitioners around the world and Marc's pet approaches to transformational work using eggs.
Part demonstration, part communal group ritual we will explore a wide spectrum of applications in this masterclass of contemporary magickal thinking. All while guided by a respectful and unconventional facilitator with over a decade of experience in the esoteric arts.
You'll leave that evening with many fresh thoughts and outlooks on both traditional and modern strategies to work with eggs.
Please note: This workshop also caters to vegan practitioners in that the ideas outlined do not only apply to working with actual eggs but also with the symbol of the egg without using it as a physical implement.
You'll learn to use eggs in your spell craft and manifesting magick with expert tips and hints
Meditate & instantly shift states of consciousness using real or imagined eggs
Professional energy work and cleansing with eggs inspired by the healing rituals of the Curanderos from the Andes (including Marc's well kept secret for safely entering and working within the energy field)
We will engage in an interactive divination session with an egg, receiving messages for the group and learning key principles of reading an egg
PLEASE RVSP VIA DM OR EMAIL SO WE CAN PLAN AND GET ALL NEEDED MATERIALS
Admittance
Donation based sliding scale 40€-20€
Be there at 7:00 pm
Starting Promptly with closed doors at 7:30 pm