Mediumship Development Circle with Marc Wilke
September 6
@
7:00 pm
–
9:00 pm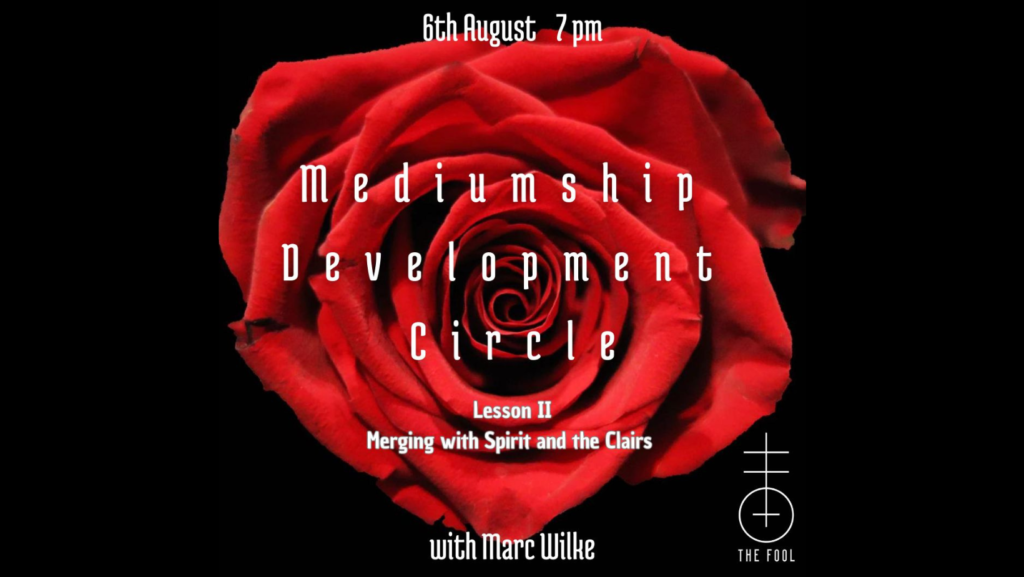 Mediumship Development Circle with Marc Wilke
Join us for the third instalment of the Mediumship Development Circle at the Fool .
Together we will talk about AND practice (!) the technique of "Spirit Merging" – Marc's signature variation of "Sitting in the Power" to connect with Spirit. We will also be discussing the "Clairs", namely the psychic senses and how to use them effectively based on your individual abilities. The highlight of the session will be a practical introduction to contacting your Holy Guardian Angel. A cherished approach to being in your Angel's presence without months and months on end of living in a secluded space praying your buttocks of with the Abramelin ritual. Prepare for a controversial yet innovative take drawing upon traditional spiritualism, state of the art séance protocols and innovative perspectives of animistic folk witchcraft as well as urban shamanism. Bring your questions and ideas regarding the spirit world, mental and physical mediumship, spiritualism and séance, evocation and angels.
Marc will be your expert tour guide into this fascinating world and share with you his experience and learnings of 7+ years with séances and practicing aa a physical medium.
The Mediumship Development Circle is a semi-public development circle dedicated to learn and grow together.
Every month we meet to learn about a new aspect of séance work and mental & physical mediumship. Everyone is welcome to join us at any point of the journey but only long term participants have a chance to receive a certificate confirming their commitment to this experimentation group and the curriculum of shared development.
Though we want to develop gradually and build upon the previous…
EVERY SESSION we will sit for some minutes in the circle together with spirit in a safe and guided way under expert facilitation from Marc to develop your own mediumistic and psychic abilities. These things don't happen in a vacuum and can only be learned by actually doing and experiencing them.
Future topics for lessons will include: ectoplasm, psychometry, reading photographs, apports, materialisations, table tipping, trance mediumship, precipitation (spirit writing) and much more