THE FOOL Cabaret at 48h Neukölln
June 24, 2022
@
5:00 pm
–
June 26, 2022
@
8:30 pm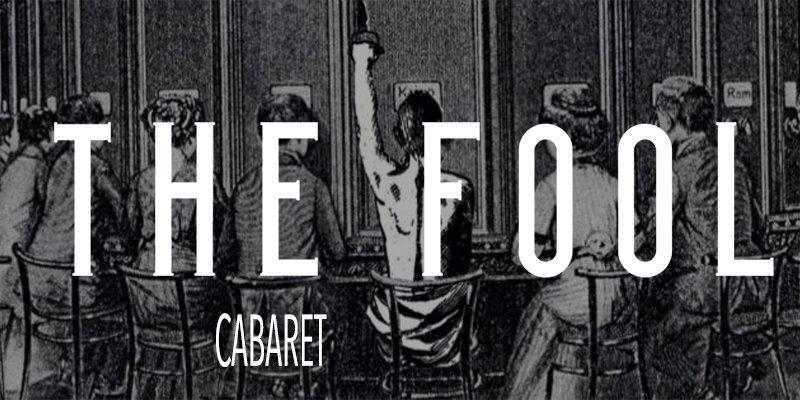 THE FOOL Cabaret is going to occupy the Infozentrale Neukölln with bodyartists, dancers, musicians and creatures willing to fulfill your deepest secret desires.
A range from workshops, performances, exhibitions and many more…
Let's celebrate the dark side within us and the joy of insanity!
CROWDFUNDING for the Event and future project in collaboration with MOVEMENT UNLIMITED dedicated to the significance of the visual and the attitude towards blindness in our society.

ALL WEEKEND:Movement-Sound-Installation by Felipe Vareschi and Felicitas Thomas
https://www.instagram.com/frmvar/
https://www.instagram.com/movement_unlimited_berlin/
This iteration of SENSING VOLUMES is an interactive movement and sound installation. The project is developing a unified sound and movement language aimed at exploring the way space acts as a playground for the senses.

Makramee exhibition by FANNI FÁBIÁN
https://www.instagram.com/fabianfanna/KNOTTED LANDSCAPES

A controversial landscape, on the hillside of relations. As love expands and takes on new traditions, the freedom of structures can become a chain for some, a liberation for others. In this vision, balance and security are inextricably linked to restless turmoil.

FRIDAY
19:00 – 20:00
Freak Performance by HULLABALOOCABARET

https://www.instagram.com/hullabaloocabaret/The Cabaret will invite you to a magical, acrobatic and absurd evening.
Eva Clumsy, Timon and Enjo Flint will take you to a funny and curious world during the 1 hours show.

20:30 – 21:30
Concert by SILK RUT
Silk Rut are presenting their new EP of dark country, murder ballads and a few upbeat songs to open the night.

21:30 – 22:30
Blindfolded Dance Performance by FELICITAS THOMAS

https://www.instagram.com/movement_unlimited_berlin/"Are you nervous because you just met me?"
This blindfolded improvisation dance piece is based on the SENSING VOLUMES project in collaboration with Felipe Vareschi. It reflects the paradox in between controlling and letting go, in between risk taking and seeking for safety of human being. By reaching a state of delirium finding liberation and pleasure in this inner conflict and accepting your personal multipolarities.

SATURDAY
16:00 – 20:00
ROPE SUSPENSION-PRIVATE SESSION
with Chandler BarnesRope suspension is a cleansing mind altering meditation which balances your energies and for a fresh restart. The process of roping takes up to 40 minutes, which depends on the position you wish for.
To achive the best sitting of the ropes on your body it ́s important to have tight fitting clothes – no fishnet.

DROP-IN WORKSHOP with Fanni Fábián
YARN ON BODY
In the 20 minutes workshop you will create some playful, multifunctional pieces inspired by the exhibition. You will work with metal chains and cotton yarn, to create a piece which
can be hung as a wall-piece at home, or be worn as jewelery. Everyone will be able to design their own unique piece and take it home.
Price: 25€

PERFORMANCES
19:00 – 22:00
Live painting performance by CHRISTIAN ERMEL
"I'm a dreamer, an illustrator of the unseen.
I celebrate the unwanted and give beauty to the grotesque.
I am not individual, I am multidividual.
Don't repeat your own art. Be diverse!"

20:30 – 21:30
Shibari Performance by CHANDLER BARNES and live set by NIL WU MING

https://www.instagram.com/superfly_1.3/
https://soundcloud.com/nil-wu-mingChandler will perform a type of meditation and channelling of energies with models hanging in ropes especially. The models will fly to free them from energies that need to go and to refresh the inner balance. Chandlers rope art is free from sexualization rather it shows connection and trust.

21:30 – 22:30
Live set by STONAE
Analog and digital fractal tekno
https://soundcloud.com/alexander-stone

SUNDAY 12:00-20:0014:00-16:00
One-on-one performance by KIA KALI

https://kiakali.weebly.com/chest-of-mirrors-ongoing.htmlIn this interactive performance, Kia will offer participants the opportunity to tune into themselves, individually choose a topic, draw a card and receive a response in the form of a still image and a video.

16:00-16:15
Dance Performance by RACHELE B.A. GIBILTERRA

https://www.instagram.com/rachelegibilterra/
"I am going to record myself.
Me, talking.
Meanwhile me there.
Rachele.
Then I start to search emotions…"

17:00-18:00
nxo live drone
activated by a minimum viable perceptual feedback circuit, nxo is an act of radical, non-prepared live p.a. practice to dig into the present for collective integration. nxo is a long-time music professional behind the scenes of a long list of cutting edge electronic music acts around berlin's most sought after venues.

18:00-19:30
Movie Streaming with live set by NIL WU MING

https://soundcloud.com/nil-wu-mingNiL WU Ming will perform a live soundtrack to Krysar, the 1986 production of Czech stop motion animation director Jiri Barta recounting the story of the Pied Piper of Hamelin.

20:00-20:20
Mexican Ritual Dance by MICHELLE FELIX ESCALANTE

https://www.instagram.com/michelle.f.escalante/
The Fool
+49 17683-291-652
info@thefool-berlin.com