Tarot Skills Mastermind
April 18
@
7:30 pm
–
9:30 pm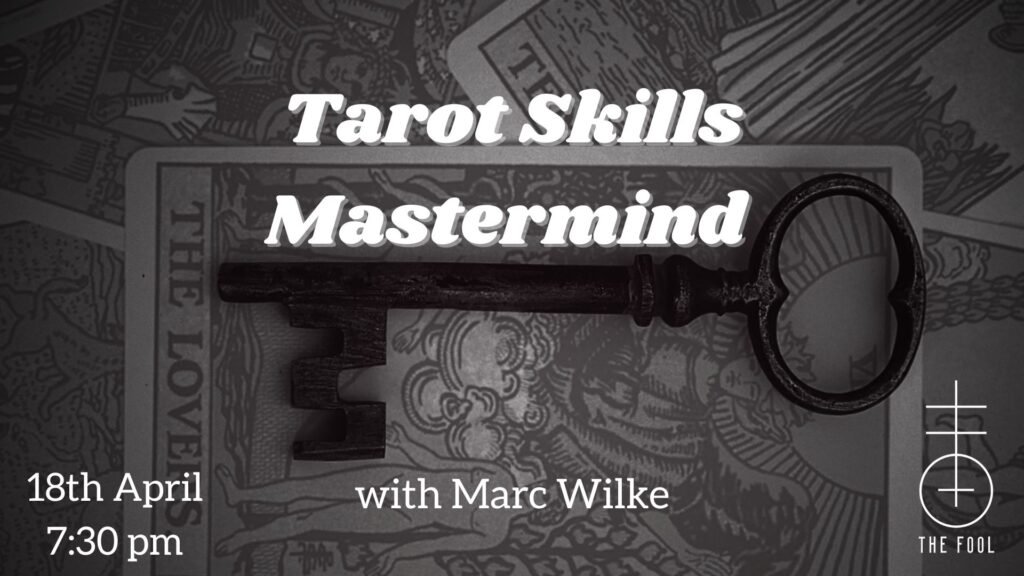 Tarot Skills Mastermind
Shouldn't Tarot be your best friend and a trusted tool to help you when you need it most?
Shouldn't it be effortless after all of this studying? Especially when it's urgent and you need new perspectives, outlooks and answers quick!
Instead the cards just tense up and give you more questions than answers.
Instead of helpful new perspectives you kinda freeze and spend hours in Tarot books, manuals and flimsy brochures that give you vague ideas and complicated metaphors that sound profound but are seldomly helpful.
So if you are done feeling stuck in all things tarot and divination join us for the Tarot Skills Mastermind Group.
You won't receive a magic bullet to solve all your problems but you will get access to a decade of intense spiritual life coaching experience with tarot and other oracles that helped Marc and hundreds of his clients. His intuitive and rebellious yet systematic approach to readings brought Marc a regular segment on national psychic TV and even an engagement by Amazon music. Reading professionally forced Marc to develop top notch systems and a problem solving mindset that doesn't lead you astray in high pressure situations.
For the duration of this evening, your Tarot problems will be his and you'll have the chance to land on the hot seat and get all your strategic questions answered. Let's hone our Tarot skills together.
What tarot spread or lay-out doesn't make sense to you? How should you best answer a complex question? What does this card mean in this context? How do I best shuffle?
Bring your favourite deck and questions and together we will help each other. You'll be in a room with other experienced readers who can give you new perspectives and tips. This group is a safe space for learning, experimenting and skill development.
All questions allowed. 100% honesty and transparency.
A space for beginners and experts alike to network, teach and learn.
PLEASE RVSP VIA DM OR EMAIL
info@thefool-berlin.com
Admittance
Donation based sliding scale 5-20€
Be there at 7:00 pm
Starting Promptly with closed doors at 7:30 pm