The Kinbaku Salon
September 15
@
8:00 pm
–
11:30 pm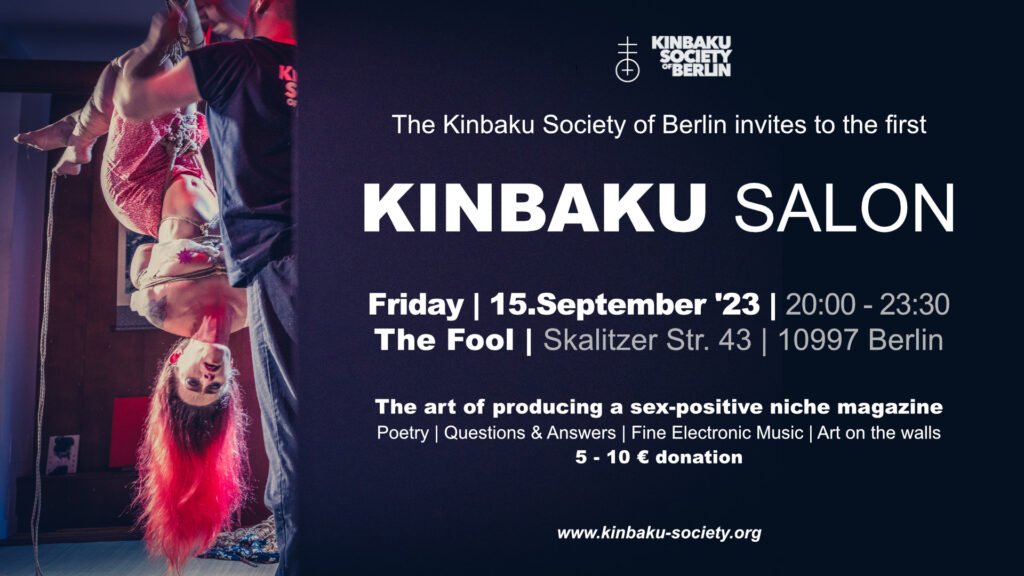 The Kinbaku Salon
A new beginning
The Kinbaku Society of Berlin and Discover Kinbaku invite you to The Fool to celebrate four years of existence and 15 KSB magazines full of research, culture, fiction, and inspiring graphics and photography.
This is a new beginning. We shredded skin. We shifted shape. We are still here. We are back to be present in Berlin.
This Kinbaku Salon is an opening. It is educational and inspiring. It is an interactive space where we use multimedia, speech, pictures, and video – and open the possibility for exchange and learning. It is for everyone who wants to know more about the origins and history of Japanese Bondage, Kinbaku, or Shibari, who like underground arts and culture – and who wants to socialize in an inspiring environment.
Program:
Keynote: The art of producing a sex-positive niche magazine – from Kitan Klub to KSB Magazine * Poetry * Fine electronic music * Questions&Answers
Art on the walls:
Selected originals from 4 years / 15 KSB magazines, with a special surprise for all collectors